Our Engagement Story
Asking for Mandy's Hand in Marriage...
Introduction
The Pitch: 10-day scavenger hunt, 1 clue a day, 1 gift a day, visiting places most significant to us, culminating at Griffith Observatory, at sunset to symbolize the close of one chapter of our lives and the beginning of the next, on a palindrome date of 4-10-2014, with a mickey-shaped ring inside a Tardis hanging in a tree with floating lanterns.
The Planning: I (Jonathan) wanted to make something very special for Mandy, so I used everything I knew to make her feel as loved, cherished and special as I could. I made sure to ask Mandy's parents for permission before moving forward and met them for dinner to ask for their daughter's hand in marriage. I told them how special Mandy was to me and how amazing and wonderful every moment was with her — how I wanted to protect and take care of her for the rest of our lives. They smiled and gave me the green light to proceed! (That was the most nervous I've ever been in my entire life..)
I absolutely love scavenger hunts. There's just something about finding clues, figuring them out, going on a journey, and feeling that satisfaction of solving the mystery and reaching the prize at the end. I've only made scavenger hunts for some of the most special people in my life, usually in celebration of their birthdays, so I felt it very appropriate to take Mandy on her own scavenger hunt adventure.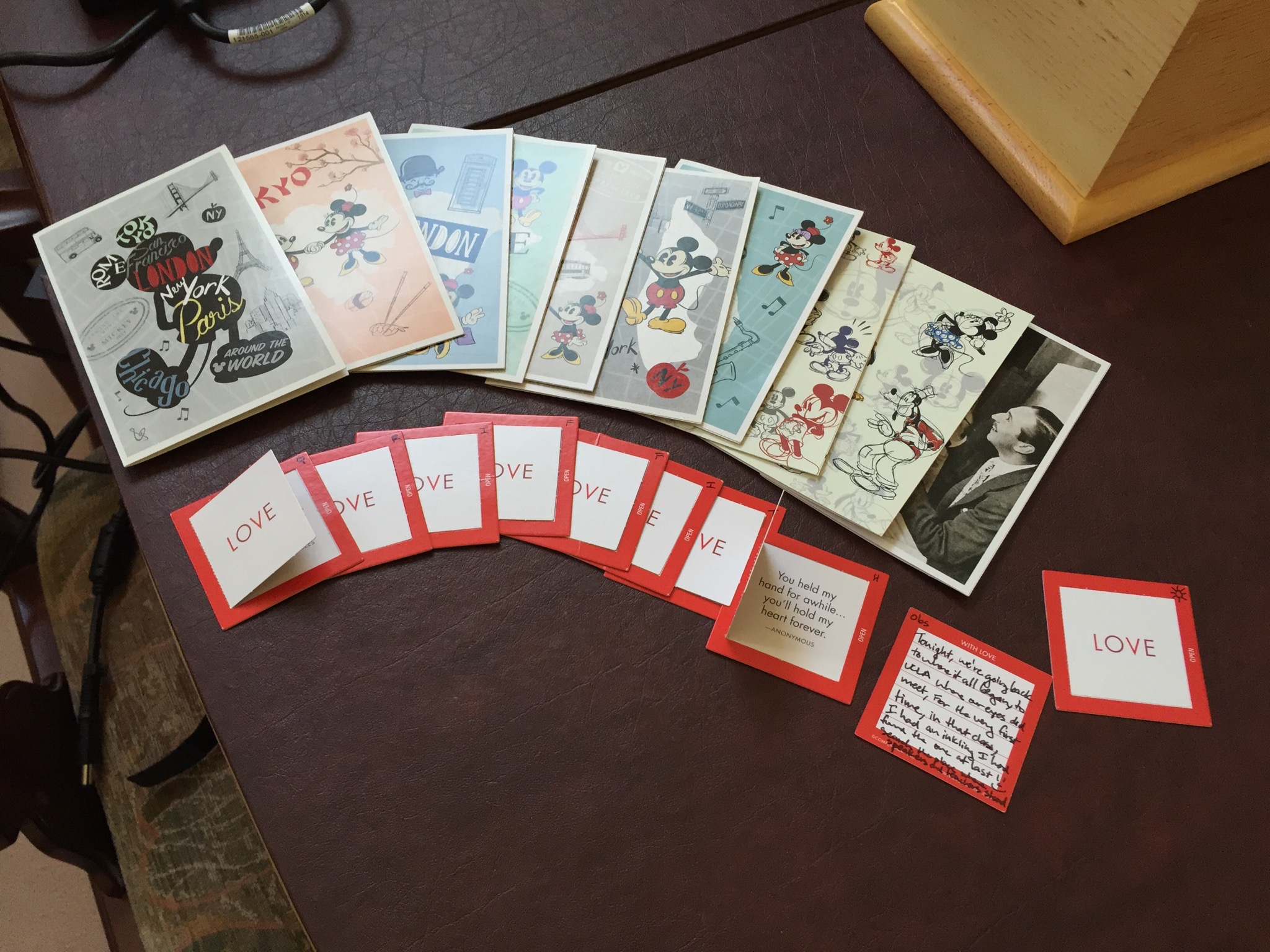 I also wanted to include all the special things that meant so much to both Mandy and I. Our favorite movie: Tangled. The TV show that brought us together: Dr. Who. Some combination of those, I thought, would be great. Most of my initial brainstorms involved the floating lanterns in some way, so I definitely wanted to have lanterns somewhere in the engagement. Barring the one problem that real Chinese floating lanterns are illegal in the state of California because the fire marshal has outlawed them, I needed to find an alternative.
Since I love storytelling, I created a story arch with all the places that were most significant to us in our dating lives. So the first few clues would be places that were significant in her own life, i.e. her apartment, her current place of work, her car, etc. And then the places would start expanding into places that we had started to share together and were key to how our relationship developed, such as the place where we first kissed, the restaurant we went to on our first official date, the classroom where we first locked eyes, etc. Plus, I wanted to bring it full-circle and include the place that we had first been reunited, Pop Champagne, in Pasadena where ZShape had it's reunion.
The Date: (4-10-2014) I also wanted to propose on a special and significant day. If you haven't noticed, I love to have meaning and purpose behind everything I do. I searched the calendar and found a date that happened to be a palindrome. On top of that, a significant number that had been popping up in our relationship was the number 10. It was also the number of Mandy's favorite doctor on the show. And the palindrome just happened to fall on the 10th by pure coincidence. So I thought it must be a sign that it would be a great date to propose on.
The Gifts: Now, Mandy and I had taken this quiz called "The 5 Love Languages" and we discovered that our ways of expressing love and showing affection were different from each other. Mandy's love language was "Gifting" which explained why she always bought me little presents and left cards meaningful notes and cards for me. Jonathan's (my) love language is "Service" which means I usually do a lot of things to show her how much I love her (like opening the door for her, cooking for her, cleaning for her, etc.) So, I decided it was time that I started to speak her language! Which is why I decided on 10 days of gifts. Also, Mandy doesn't like buying things for herself very often. And she had almost no Dr. Who merchandise even though she loved the show so much, so I decided that I should increase her Dr. Who merchandise collection!
The Location: Early on in our relationship, Mandy and I had gone to Griffith Observatory to watch the sunrise after spending a very late night out because we literally had stayed up all night talking to each other about life. So, after debating between several different places and since April 10 happened to be a Thursday and both Mandy and I had work, it felt right to have a place that was only 10 minutes away.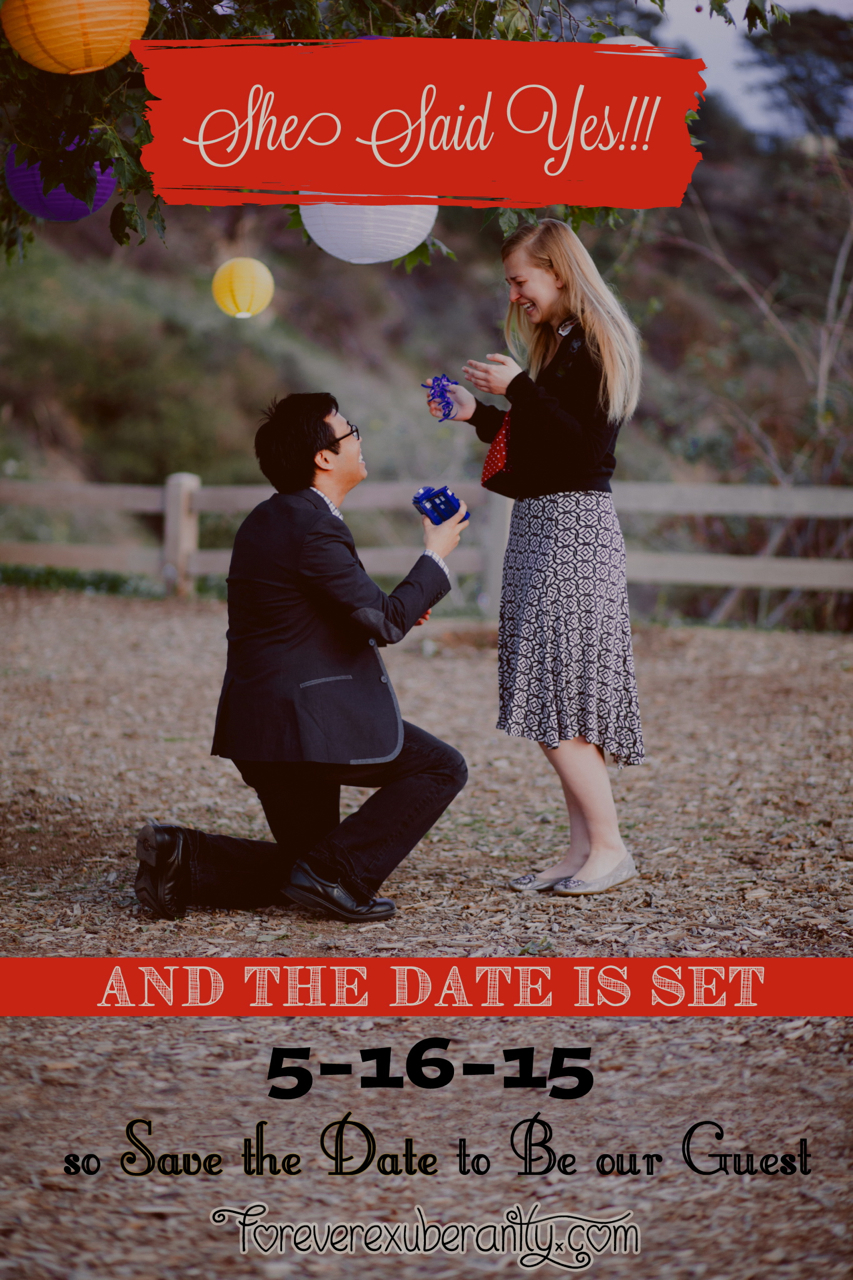 Date: Tuesday, April 1, 2014
Clue: Under this comfy place, there is a small space. From where each day you arise, you will find a most pleasant surprise!

Gift: Dr. Who Pen and Bookmark
Location: Mandy's Apartment
April 1st happened to be April Fool's Day, so it was a perfect start to the scavenger hunt because Mandy thought it was a joke! I secretly put a card next to her pillow so that she would wake up and see a card next to her! It sent her on a mini scavenger hunt around her apartment which ended in the clue above. I love when things come full circle. The night before, I had placed the gift underneath her bed so that she literally would be sleeping above it the entire time.
It also was funny, because she thanked me for one of the best April Fools day's ever, but little did she know that it was only the beginning!
This is where the fun started to begin. I wanted to send Mandy to her work because in the overall grand scheme of things, I wanted to start with places that were significant in her life before sending her to places that were significant in both our lives. I love using technology in my clues and luckily I also had several friends who also happened to also work at Riva (and were part of our original class at Disney all those years ago that were part of ZShape). So I got them involved too because I knew they would be super excited to help out!
So, I had lunch with Ambika the week prior to give her the actual "Gift" that Mandy was eventually going to get at the end. At the time I was still formulating the clue, but I gave her the wrapped gift and told her that I would update her with the final details as soon as I had them.
The next person I contracted to help was Alex. I literally called him the night before because I hadn't gotten the chance to meet up with him and filled him in on what the plan was.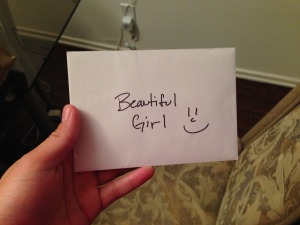 This is how it went: I wrote a card which had a clue (above) that led her to Riva (the name of her company). There she found Alex and told him the secret phrase. He then handed her a QR code (which I had also made the night before) [linked above] which then linked to a YouTube video. That YouTube video was made in the style of Mission Impossible which then pointed to a link hidden in the description below the YouTube video. That link led her to an image containing the glyphs from the Indiana Jones ride which she then had to recognize and decipher. The video had told her that she needed to tell this deciphered code to a person who had been "newly promoted" which was our friend Ambika!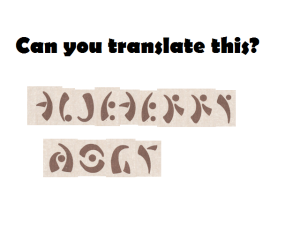 As she was deciphering it she told me that she thought it said "Beautiful Girl" which is what I always call her! But (mwahahaha) I tricked her and chose her favorite drink at Lemonade (a restaurant in Pasadena), called "Blueberry Mint," which (amazingly) had the same number of letters as "Beautiful Girl" so she had to translate the entire message.
She then left a note on Ambika's desk, who was in a meeting at the time, with the code words written on it, and 20 minutes later, Ambika walked by with the wrapped gift!
Date: Thursday, April 3, 2014
Clue:
Today is a simple one…
He gets beat up and
is in danger of being
TOWED.
He eats oil like crazy
but takes care of my Mazy.
Often left out in the cold,
he has something for you hold.
Gift: Tardis and Dalek Ice Cube Trays
Location: Mandy's Car
This clue led Mandy to her car. We have nicknamed her car "Toad" because it's an allusion to the fact her car looks like it might be "towed" at any given moment. She had given me a spare key to her car (just in case she had ever locked it inside by accident or lost it somewhere). So I used it to put the gift inside her glove compartment the night before after she had parked it for the night at her apartment.
She recalls that she couldn't find it at first, and thought that I hadn't had time to place it in the car. But she found it eventually and found a very pleasant surprise gift waiting for her.
I wanted to alternate between simple clues and more complex clues because I didn't want to alert her to the fact that anything important was going on. Every time she asked me "Why are you doing this for me?" I would simply respond… "Oh, you know, I don't give enough gifts to you, so I'm trying to make up for it!

"
**Update: We did not go to the Thai restaurant on this night, I got confused with another night (Day 7 to be exact) where the gift was in my car and not her car.**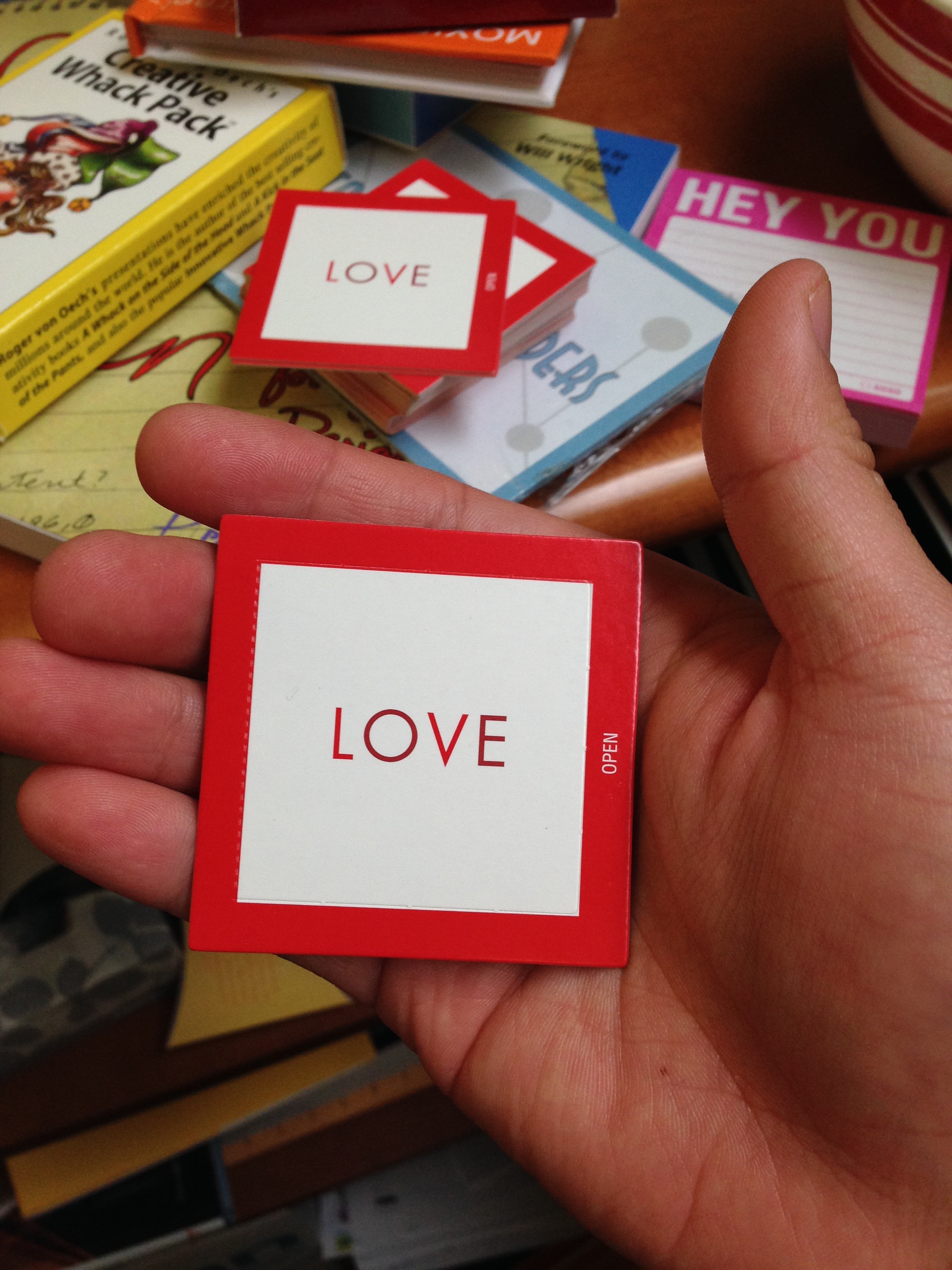 Date: Friday, April 4, 2014
Clue:
Tonight, we'll take a trip down memory lane…
For a special treat
@ The place where we first
did eat, unofficially
Somewhere on 3rd street
And there another
Surprise waits to greet.
Gift: Tardis Christmas Lights
Location: Johnny Rockets on 3rd Street Promenade
I tricked Mandy into thinking that there wasn't any clue today… until after lunch… mwahahaha, because I delivered the clue to Alex Merryman to deliver to her on her desk while she was out. Alex texted me later saying that he successfully dropped "the package" and said that when Mandy got back from lunch, she saw the note, looked around confusedly and suspiciously, and, finding none around, proceeded to open the clue (above).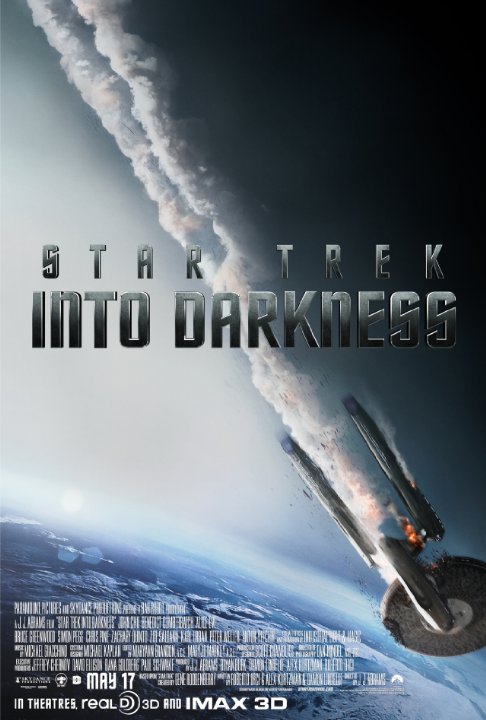 Johnny Rockets was the first restaurant that we went to on our first "unofficial" date. It was such a special night in our lives. I remember after I had begun watching Dr. Who, I went over to Mandy's apartment to have a Dr. Who marathon with her. We watched a couple episodes and then suddenly turned to each other and I said, "Do you want to go watch Star Trek: Into Darkness?" and to my surprise and delight, she responded, "Yes!" so we drove to 3rd street promenade and we watched our first movie together.
I knew that she liked fries, so after the movie finished, we passed by a Johnny Rockets and sat down for a late night snack. I'm not sure how many hours it was, it was definitely 3+ but we sat down and literally talked for HOURS about the complexities of the movie, the characters, the brilliance of JJ Abrams, and storytelling, and life in general.
If you've ever had one of those moments where time just seems to slip away, this was one of the first times I had ever experienced it with a girl. And after that night, I knew there was something very special about her, because we just seemed to "click." I keep telling people, if I had a checklist of everything I would ever want in a significant other, Mandy fits all of them, plus MORE.
Soooo, when we arrived somehow, by a sheer miracle, they sat us down at the SAME exact table that Mandy and I had first sat at all those months ago. It was so magical.
So, I kept referencing the clue and telling Mandy to keep her eyes peeled for a surprise somewhere in the place we were going. And THEN to top that off, our waiter for the evening walked out with the Tardis Christmas lights hung around his neck. It couldn't have been more perfect.
Mandy noticed them right away and said, "Wow, nice necklace!" And then I quickly responded, "Are you keeping your eyes open?" … and then she exclaimed, "WAIT, are those FOR ME??!??!" and I nodded with a smile saying, "Yes

They're all yours my darling."
So we had a lot of fun taking pictures with our awesome waiter who we let wear the Tardis Christmas lights the entire night until finally we had to pay our check and he kindly bestowed the lights around Mandy's neck as if she were having a royal coronation.
It was such a great walk down memory lane and a look back at where it all started.
This slideshow requires JavaScript.