Our Engagement Story (Continued...)
Continuing to Ask for Mandy's Hand in Marriage...
Day 5
Date: Saturday, April 5, 2014
Clue: Today, we're going to our favorite magical place, to have fun and relax. Mozy by an old bayou (around 6:30pm) grab a pirate punch and keep an eye open for among the town peasants, you may find your next present.
Gift: Dr. Who Sweater
Location: Blue Bayou Restaurant at Disneyland
One of our favorite places is Disneyland (as you very well know). And it was actually the location of our second "unofficial" date. So I wanted to keep the scavenger hunt relatively linear (in terms of timeline), so it just worked out that Disneyland fell on a Saturday. And it also just so happened that Mandy and I hadn't gone to Disneyland in a while, so she really wanted to go. So when she suggested that we go that weekend on this very Saturday that I had planned her scavenger hunt clue. I said, "Sure! I'd love to go to Disneyland. What a great idea bunny!"

And so we got ready, and didn't leave until the late afternoon. And so when we were on our way down, I suddenly started looking worried and rummaging around the driver's seat area looking for "something." I was like, "Where do you think we should park bunny? I think we should park at the Candy Cane Lane hotel since it's closer than Mickey & Friends! Can you check and see if we still have Lauren's parking pass in the glove compartment?" and she was like, "Oh sure! Let me see!" and then proceeded to push the button to open the glove compartment. What she found instead was a letter addressed to her, and her next clue

She smiled, turned to me and said, "You don't really need that parking pass, do you?" and I smiled slyly and said, "Nope!" and just grinned back.
We shortly arrived at Disneyland and she was so excited because she wasn't expecting to have dinner, let alone at one of our favorite places because it held such great memories for us. It was the restaurant that Tony Baxter took us to during our first trip to Disneyland during the Imagineering class back in college. AND was the place where ZShape first bonded over a nice meal and "pirate punch."
And as luck would have it, by some amazing miracle (again), we were seated at exactly the SAME table and SAME location as when we had lunch all those years ago in the Imagineering class.
I had coordinated earlier in the day for the gift to be dropped off somehow at the restaurant. I left it quite loose so it really depended on the circumstance and what the restaurant would allow. So by the time we got to Disneyland, I didn't take out my phone once.
And after waiting in the reception area for a little bit to be seated, they called our names and led us to our table. When we got there, lo and behold, there was a special little box waiting for us on the table sitting right next to the candle. It was so special. Mandy was so shocked and surprised because as she said, "You didn't even text or call anyone because I was with you the ENTIRE TIME!" and then she asked, "How did you do that??" and I just simply responded, "Magic"

Date: Sunday, April 6, 2014
Clue:
This place too is magical but filled with misdirection and mystery.
Have a yummy brunch @ noon.
And Then search the dungeon for your boon.
Like Rory, who traveled through space and time.
Your present is kept safe by the mummy-kind.
Gift: Dr. Who "Timey Wimey Wibbly Wobbly" t-shirt
Location: The Magic Castle in Hollywood
The World Famous Magic Castle was where we went on our first "official" date where we had the most magical dinner when we first started dating. But this time, I changed it up a little, 1) because I didn't want her to get suspicious of anything special, and 2) we hadn't tried the brunch yet and we had always said we wanted to try it.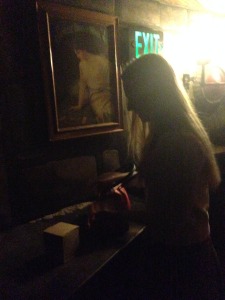 So, to play it down as much as possible, I told her that we were having brunch with our friend Tamara who had been wanting to go to the Magic Castle, SO, Mandy didn't think anything special was happening.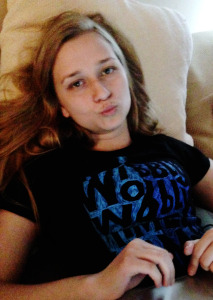 But this was also for another logistical reason. I actually had to be the one to let Tamara and Sandy into the Magic Castle, which is why we came up with the idea for the lunch.
The Magic Castle brunch is actually SUPER good because it's actually a buffet. What's great about the brunch too was that it's also one of the only times that you can bring kids to the Magic Castle. So seeing the kids faces as they watched the magic happen before their eyes was really neat. And the magicians definitely played to the kids and were more animated than usual.
After brunch, I told Mandy to start looking for her clue and she was like, "I think I know where it is!" and so we went down to the dungeon and to the oven portion. Then she opened the door and inside she found a dead skeleton and next to his hand was another special box. And she asked (again), "How did you do THAT?!?" and I said, "He's been guarding your gift for over 1000 years

I met him back when I was time traveling."

And she just looked at me with those beautiful eyes and said, "Uh HUH.." And smiled back.
Date: Monday, April 7, 2014
Clue:
Named after Doc Brown, we've spent a lot of time within,
he brings us everywhere on a whim,
People say he is very sweet
and for you he holds a special treat,
so try taking a look somewhere under his seat.

Gift: Dr. Who Jenga
Location: Jonathan's Car
Again, I wanted to make sure she didn't catch-on that this was all leading to something big. SO, I decided to throw in a very calm, low-key day so she wouldn't get suspicious. We usually ate at a near-by Thai restaurant that was close to her apartment, so, as usual on Monday nights, I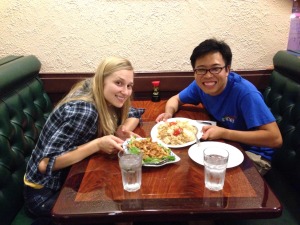 suggested we go there and get some yummy Fried Rice and noodles (yummmm, I'm hungry now just thinking about it!) and so during dinner, while she went to the restroom, I put another card down in front of her plate, which of course had a clue inside which ultimately led her to search all over Emmett (my car) for the clue which she found pretty quickly!

In terms of storyline, besides playing a low-key moment, I wanted to also introduce the "Third Act" which was the introduction of "my" story and when I came into her life. Because very early on into our relationship, besides all those wonderful places that we went to on our first dates, we spent a lot of time driving around in my car because her apartment was much farther from her work than her new apartment. SO, we ended up talking until the wee hours of the morning in Emmett, and watching many episodes of The Legend of Korra, and Dr. Who and sometimes falling asleep. So Emmett had become part of our relationship, and therefore needed a special place in this scavenger hunt.
Date: Tuesday, April 8, 2014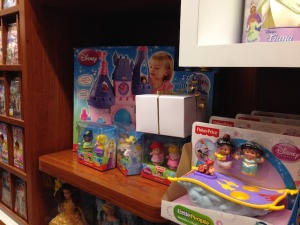 Clue:
Watching everything with you is incredible
and here we walked a starred boulevard indelible.
At this fountain we did see,
A rack of DVDs and Monsters filled with glee.
Gift: Dr. Who Socks
Location: The Disney Soda Fountain/El Capitan
The Disney Soda Fountain next to the El Capitan was a very special date place for us because right after we had watched the premiere of Monsters University, I had asked Mandy if she would do me the greatest honor of taking the next step and become my official girlfriend. So it was very special indeed and very memorable.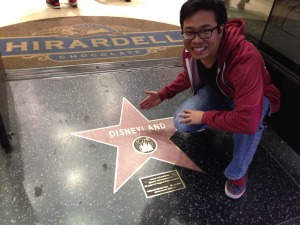 Ok, we were also getting close to the proposal date, and tonight was the beginning of some of the longer excursions which were going to be tougher on a work night, so I had to make sure that we left on-time and to stay in touch with Tamara to let her know when we were heading out to let her know when to make the drop.
SO, we went to work, and as luck would have it, Mandy texts me later (just after lunch) with a message that went something like this…
"Hi bunny, I'm not feeling too well, so I think I'm going to go back to the apartment and rest for the afternoon."
By this time, I was starting to freak out a little, and didn't know whether I should cancel the night's excursion, or just wait it out and see if taking a nap helped her to feel better. So, when I came knocking later that evening, I was hoping to hear sounds of excited happiness when I stepped through the door. But, what I found instead, was a sick Mandy, groaning and lying in bed.
So now, I was definitely panicking just a little bit, because I wanted her to get better, because in two days time, it would be the actual proposal, but I also had gotten a text from Tamara, just before I walked through the door, telling me that she had just hopped on a train and was on her way to the Soda Fountain.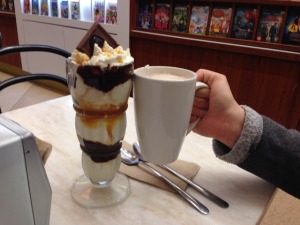 SO I had to decide whether to call it off or move forward. Whether to have 2 gifts the next day and just let Mandy rest, or just take sick Mandy out for a nighttime drive. It was now or never.
I asked Mandy what she wanted to do (since she already had received the clue earlier in the day and knew we were supposed to go somewhere that evening). But as sick as she was, and still lying in bed, she was like, "No, I need to get my gift!" and so I was like, "Okay, if you can get out of bed in the next 15 minutes, then we will go get your gift!"
And she did, like a trooper, and with such determination. We hopped in the car and were on our way to Hollywood Blvd. We got there! And I knew we were running super late. So I was checking my phone discreetly, as much as possible, and tried to text Tamara when Mandy wasn't looking, to let her know that we had arrived.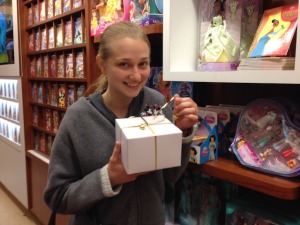 Tamara texted back that the gift would be placed within the next 10 minutes, so I should start heading over there. —— When we got there, it was packed and buzzing with people. But the clue said it would be amongst the DVDs in the back. The other small little caveat, was that the Disney Soda Fountain actually had been re-modeled in the last few months and had a Ghiradelli overlay, so everything was a little different. But luckily the only unchanged part WAS the DVD rack, so we wandered towards the back of the store. And Lo and Behold, a small little white gift was sitting amonst the princess toys.
Mandy was like, WAIT, is that MINE?!?! She hadn't seen it at first because she was looking at the DVDs, but I just stood close to the shelf with the little white box and looked up and down which caused her to look where I was looking and she spotted it!
With gift in hand, we sat down to enjoy a delicious cup of hot chocolate and caramel ice cream sundae. YUMMMMM!! It was a delightful evening and Mandy loved her new Dr. Who socks which she promptly put on when we returned to her apartment!