Our Engagement Story Finale
Finally asking for Mandy's Hand in Marriage...
Day 9
Date: Wednesday, April 9, 2014
Clue:
Tonight, we're going back to where it all began, to UCLA where our eyes did meet,
For the very first time, in that class, I had an inkling I had found the one at last


Search the place where speakers and teachers stand.
Gift: Dr. Who Pizza Cutter (with sound!)
Location: UCLA
I wanted to take Mandy all the way back to the classroom where we first locked eyes. It was the Disney Class where it all began. I remember walking in one day, and as I was coming down the stairs, I waved to someone I knew, and all of a sudden, I saw this beautiful girl next to them waving back at me! And that was Mandy. SO, I had texted our friend Lauren, to remember what room we had taken that class in, and miraculously, she responded in seconds with the room number!
The only caveat was that Mandy was actually still feeling horribly sick and it was getting worse. The only thing I did NOT plan for was sickness, and because everything was already set in motion, I either had to call the entire thing off and lose the specialness of the date I picked, or keep moving forward. So, as evening came, Mandy was feeling a little better, so off we went! Back to UCLA to the place where we first met.
The second thing I didn't think of… was that there would be a class inside the classroom… at 7:30-ish-pm at night (WHY would there be a class at that time?!) haha, SO, Tamara did some quick thinking (because she had gotten there super early) and she told me to take a walk around the sculpture garden instead! So, when we arrived, I took Mandy to look at our the classroom where we first met, and saw the class that was being taught in there. After that, we walked outside of the building. Mandy was wondering where her gift was and if we were supposed to bombard that class that was taking place, but I told her that her present was elsewhere to be found!
We exited the building and told her to keep her eyes open for anything around the area. A statue lit by a small dim light caught her attention and she started walking slowly towards it. Little by little, she started to see it, and she noticed a small little object wrapped in a green cloth sitting in front of the statue. Then, she was like, "WHATTTTTTT!!!! HOW IN THE WORLD DID YOU GET THIS HERE?!?!?!" and I of course responded… "Magic…" and just smiled at her.

We later went to dinner at 800 degrees pizza to celebrate the triumphant discovery.
Date: Thursday, April 10, 2014
Clue: Look for your gift hiding up in a tree.
For it has traveled through all Time And Relative Dimensions In Space to find you… for me.

<3 <3 <3
Gift: A Mickey Shaped Ring inside a Tardis Ring Box (that lights up!)
Location: Griffith Observatory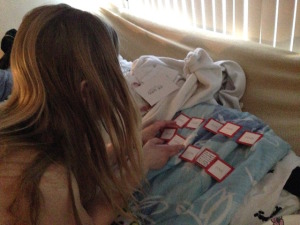 Now, as you all know, I wrote a card each time with the clue telling her all the different reasons why I loved her. In this last clue, I actually didn't reveal a location, but rather, in her last card, told her that her final gift location had be slowly revealed to her over the course of the entire scavenger hunt. So she quickly ran and put all the cards together to see if she could find anything. She discovered that at the top right of each clue, I had written a small letter, which she had noticed but didn't think anything of during the hunt, but eventually spelled out "GRIFFITH OBS" on it. I put OBS on the 9th clue and a "Sun" circle with rays coming out on the 10th clue so when put together, she would be subconsciously ready to go see the sunset!
Griffith Observatory (as I described in the introduction) held a very special place in our hearts because it had been the place that we saw our first sunrise together as a couple. So, watching the sunset together there, it symbolized the close of one chapter of our lives and the beginning of the next.
Now, Mandy had actually gotten even MORE sick since the morning and had to take the day off because she wasn't feeling too well. I had talked to my parents the night before and frantically asked what I should do! Luckily, they had some antibiotics on hand, and I promptly delivered them to Mandy as soon as I could. By the time the afternoon rolled around, she was feeling better, and I asked her if she was up for one last excursion out. She said, "Yes, I wouldn't miss it for the world!"
In the card, I had written that we should dress classy today, so she put on a beautiful evening dress and I wore my coat with dark jeans and picked her up from her apartment. Tamara, Sandy, and my parents were already at the observatory making sure everything was already setup. They were busy hanging lanterns in the tree and making sure the area was ready. We also placed a speaker in the tree to queue "I See The Light" from Tangled as soon as I got down on one knee. My dad setup the video camera and Rafael Hernandez, a good friend of Noah's, was ready with his camera. (See our amazing proposal photos here.)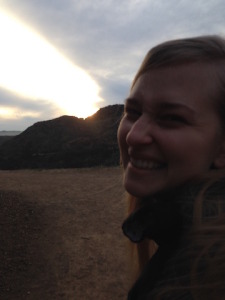 When we arrived, there was absolutely NO parking, because, I guess a lot of people go to Griffith Observatory to walk and watch the sunset. SO, I ended up dropping Mandy at the top of the observatory and parking down at the bottom. I quickly ran back up to the top and told her, "I think I saw the Doctor land the Tardis about halfway down the hill!" because the proposal spot was in a little quiet area away from the hustle and bustle of the crowds.
We finally reached the final road, and I started telling her how much fun I'd had with her over the past 10 days. We turned the corner, and there was the tree in front of us. She gasped because there was the small little Tardis box hanging from the tree. We walked up to it. She was in awe of how this small little Tardis ended up in the tree! I quickly grabbed it from her to turn on the pulsating light so famous of the Tardis. Then I launched into the words that would change our lives forever. About three sentences in, when I mentioned that she made me the happiest man in the world and that I want to spend the rest of my life doing the same for her, Mandy realized what was happening and a beautiful tear dropped down the side of her cheek. She dropped the little tissue she was holding, and just looked into my eyes and I looked back at her. I got down on one knee, and said the cheesiest line in the world:
"Now, as you know, the Tardis is 'bigger on the inside', so I'm going to open it, and show you the future."
***Opens Box***
"Mandy, will you marry me?"
Through her tears, a huge smile came across her face, and she wholeheartedly said, "Yes!"
And that suddenly became one of the happiest days of my life.
Up until then, everyone was hiding and trying to be inconspicuous, so I told them that it was okay to reveal themselves and come out! Everyone came up and congratulated us and gave us great big hugs! It was so amazing to be there in that moment.
My dad later told me that there was a small white dove that basically perched right next to the proposal spot for 15 minutes before we arrived. It was like God was watching over the spot too to make sure nothing would go wrong and nothing would interfere. It was incredibly special.
We later had a celebration dessert at, of course, to bring everything full circle, none other than the place that we were first reunited, Pop Champagne, in Pasadena. We had a special reserved table right next to the window. A vase of beautiful flowers on our table, and the most awesome waiter in the world, that came by and congratulated us with some amazing and unforgettable desserts. If there was a Cloud 9, we were both on Cloud 999. It was an evening we will always remember and cherish for the rest of our lives.
This slideshow requires JavaScript.
~THE END~
**Thank you to everyone who helped make this happen, I couldn't have done it without you!