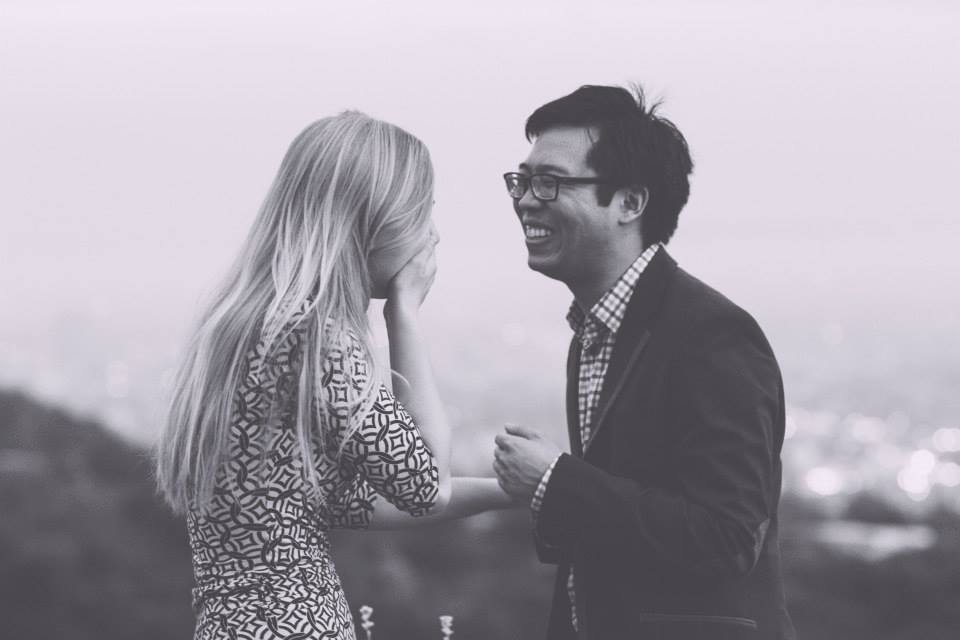 Once upon a time…
(as told by Mandy)
Jon and I would like to think that our story actually begins when we were super young…
Perhaps that we were both at Disneyland on the same day and our strollers passed one another and we shared a moment as we both were sipping juice boxes and 'So This is Love' was playing somewhere in the background…
But we have yet to find actual evidence of this occurrence so we'll start at our official beginning-
c146: Art and Process of Entertainment Design. Taught and mentored by Disney Imagineers. (What! We're actually going to be in the same room as THE Disney Imagineers, breathing the same air and being within a hugging distance of them??!!) CRAZY!
For anyone unfamiliar with what the term Imagineer means (and if you're from either side of our family my guess is you probably know the definition but I'll explain anyway just in case)
im·ag·i·neer
iˌmajəˈni(ə)r/
noun
a person who devises and implements a new or highly imaginative concept or technology, in particular one who devises the attractions in Walt Disney theme parks.
The Dictionary
My first reaction to being in this class surrounded by other theme park lovers was…wow there are other people out there like ME?!?!!  I had honestly thought up until this point that my obsession with Disney was an odd disorder that I had possibly inherited. A disorder where bursting into random Disney songs and knowing more about Disneyland than my school homework was an abnormal social trait, my other friends certainly treated it as so.
And then I met Zshape

 United under a cause to make a killer pitch to the Imagineers in Glendale, we slaved away for two thirds of the school year to try to make the best presentation possible.  But we also had a lot of fun while doing so.  Our weekends became quickly filled with various trips, yummy places to eat, and of course visits to the parks! One day we even met Jon Lasseter and in a nervous attempt to try to think of what to say we awkwardly told him, "You're so amazing…We pray to you!!"
ya…I think we probably scared him away…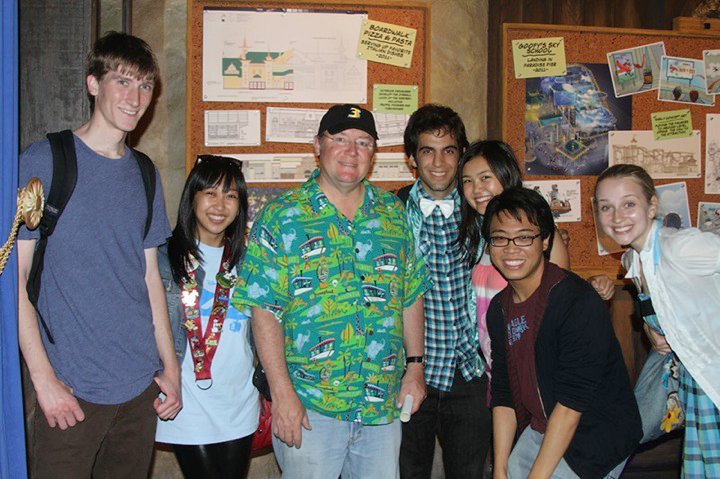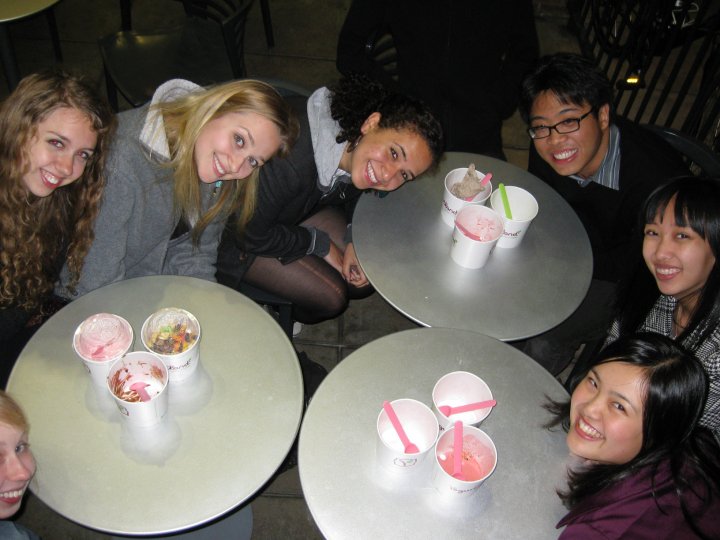 It should be mentioned at this point that I also always had a little crush on Jon – from the beginning.  I remember first meeting Jon and thinking, "wow gotta be careful – this guy is exactly my type" (I was dating someone else at the time and out of respect to that relationship was always extra cautious with Jon) But life went on and relationships ended and somehow I ended up back in Los Angeles and back to hanging out more with Zshape again…which also meant hanging out more with Jon too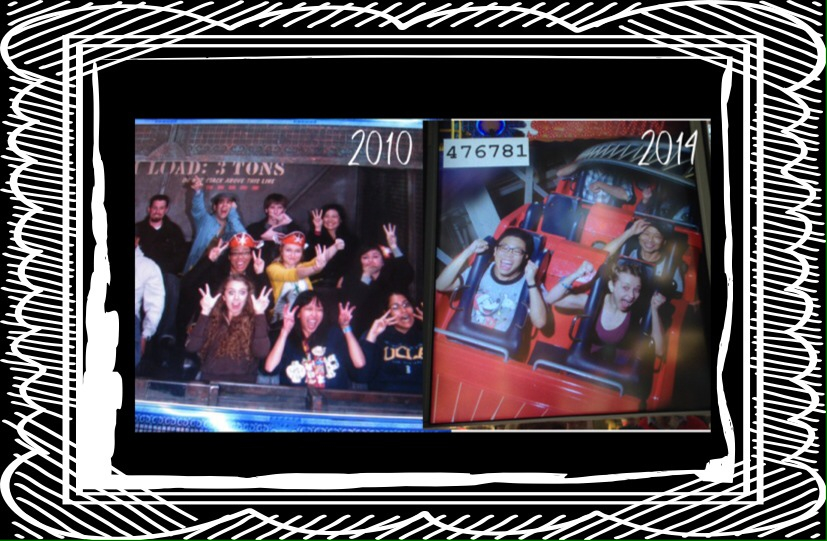 I don't really know how to explain the transition- it just kind of happened! I remember going out to dinner and a movie with Jon and coming home and thinking…did we just….go on a date?! And then the unofficial dates kept happening and official ones too and then I just remember being on Pirates of The Carribean (in the coolest room with all the fire) with Jon sitting next to me asking me to be his girlfriend and without hesitation I was saying "yes!" back to him and thinking…
It felt like we had always been together. It's weird to even think now there was a portion of our lives where we weren't dating because now…it feels like forever…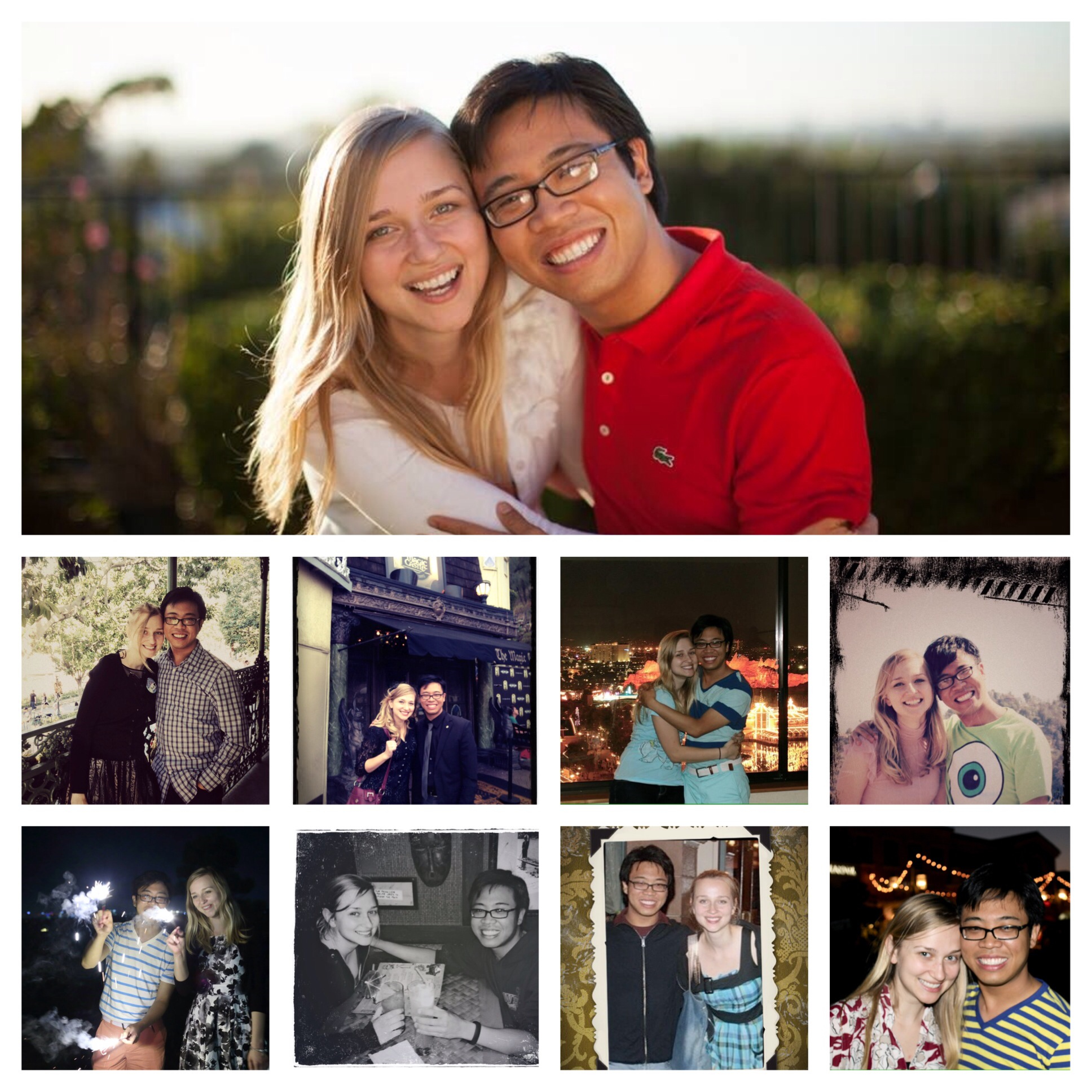 And a day hasn't gone by where I haven't laughed and fallen in love deeper and deeper with Jon…It's very exciting to be in this next chapter of our fairytale too – where I'm engaged to my best friend…
At the beginning of our journey we were just wide eyed kids in college wearing mickey mouse t-shirts…and now life has brought us full circle.  Jon actually IS an Imagineer (and I can freely attack an Imagineer with hugs daily hahaha)  oh ya – and he speaks in that very class now where we first met too!! Pretty cool, huh?  And now we're both theme park designers living our dream – together!
And together certainly is our favorite place to be 

So thank you, friends and family, for all your love and support along the way!  You can imagine how excited we are to take the next step in our journey, and to share it with all with you come that very special day!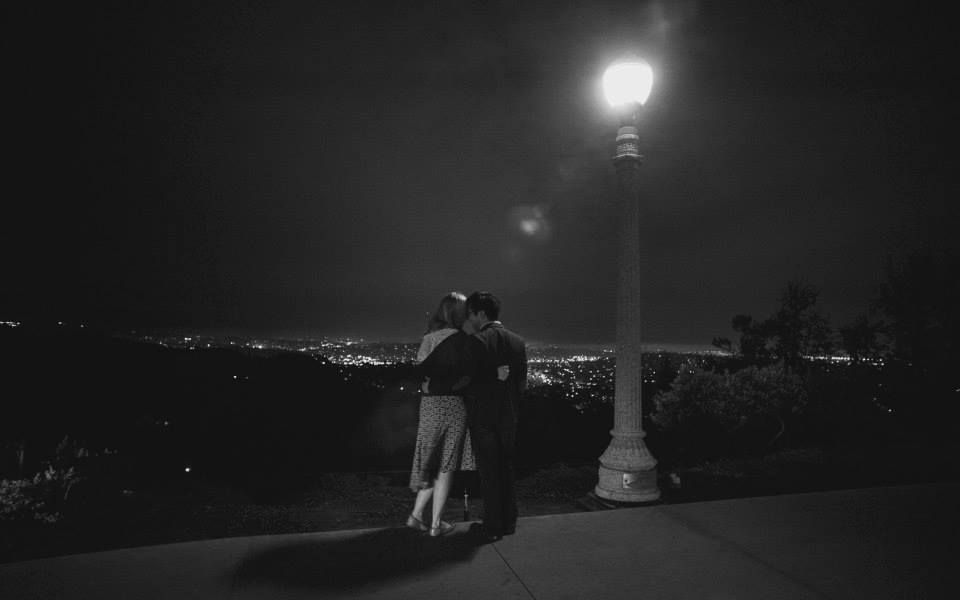 Time slips away.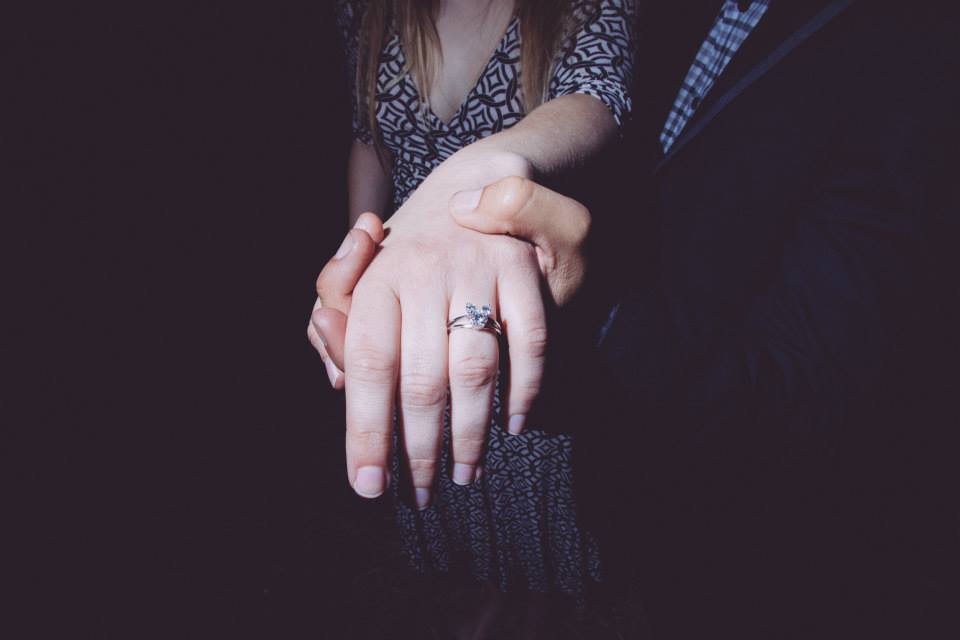 You held my hand for a while...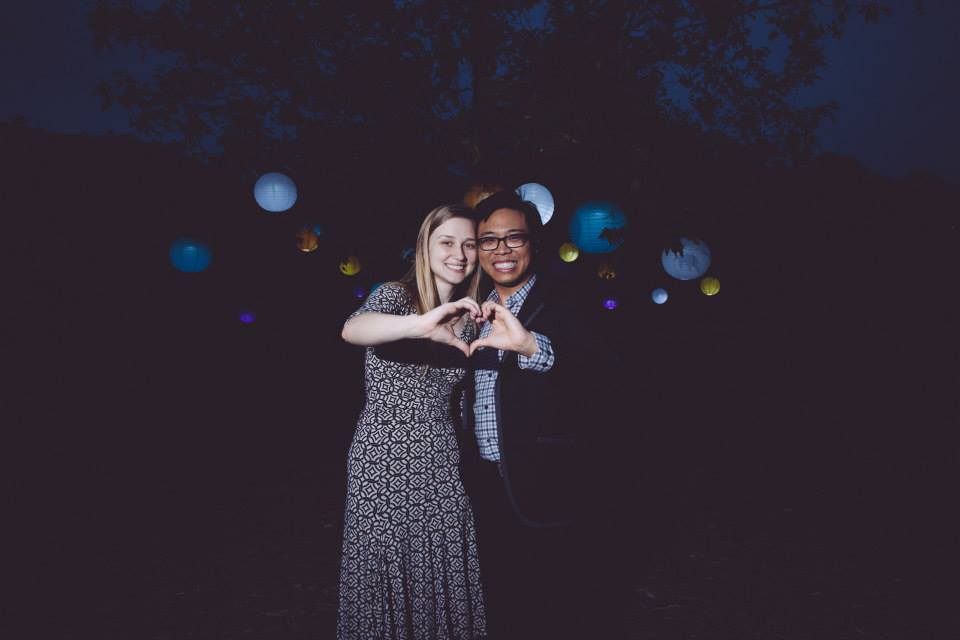 You'll hold my heart forever.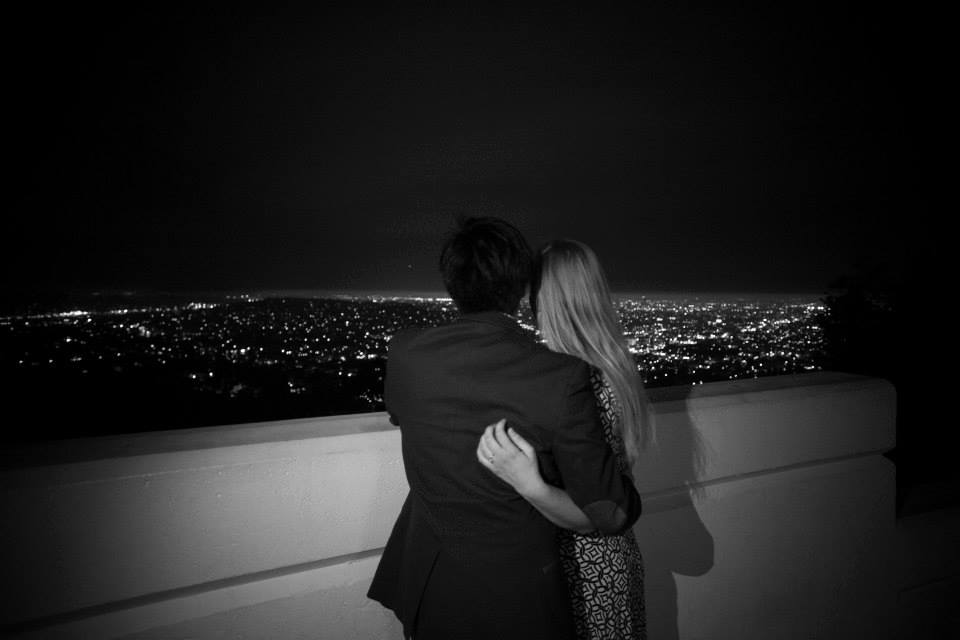 My Lifetime listens to Yours.
Once upon a time…
(as told by Jonathan)
Mandy doesn't remember this, but I swear I actually met her during her Freshmen year (my Sophomore Year), sometime in Winter Quarter. I was hanging out with my good friend, Marisa Tate, and she introduced me to some of the new students who had just joined, pointing to one and saying, "This is Mandy". Mandy was facing away from me at the time, but I just remember her beautiful blonde hair flowing down her back, and then all of a sudden she turned around and I remember her saying, "Hi! Nice to meet you!"


…a few years passed…
I signed up for the famed "Imagineering" class because I am an avid lover of Disney and heard such amazingly good things about the course. Little did I know that it would change my life forever.
The first day of the 2nd quarter of class, I remember walking in late because I had just come all the way from South Campus (the science part of campus, all the way to the unexplored territory of North Campus) and was walking to the front of the classroom when I started waving to someone I knew. But then a group of girls started waving back to me as if they knew me, so I started waving back! and all of a sudden, I saw Mandy sitting in the middle of them and I remember thinking, "Wow, she's really pretty and cute!… AND SHE'S WAVING TO ME! COOL!"

…all my encounters with Mandy are so crisp and clear in my memory, it's amazing, now that I'm looking back at it…
The day that we really started becoming good friends was the day that Z-Shape formed during our tour down to Disneyland with Tony Baxter. There was a point in the tour where we split up into different groups and even though the group that I was in was supposed to stay together, everyone actually left, and so the group that remained was the group that really wanted to take a picture with Tony Baxter, who are now my friends for life.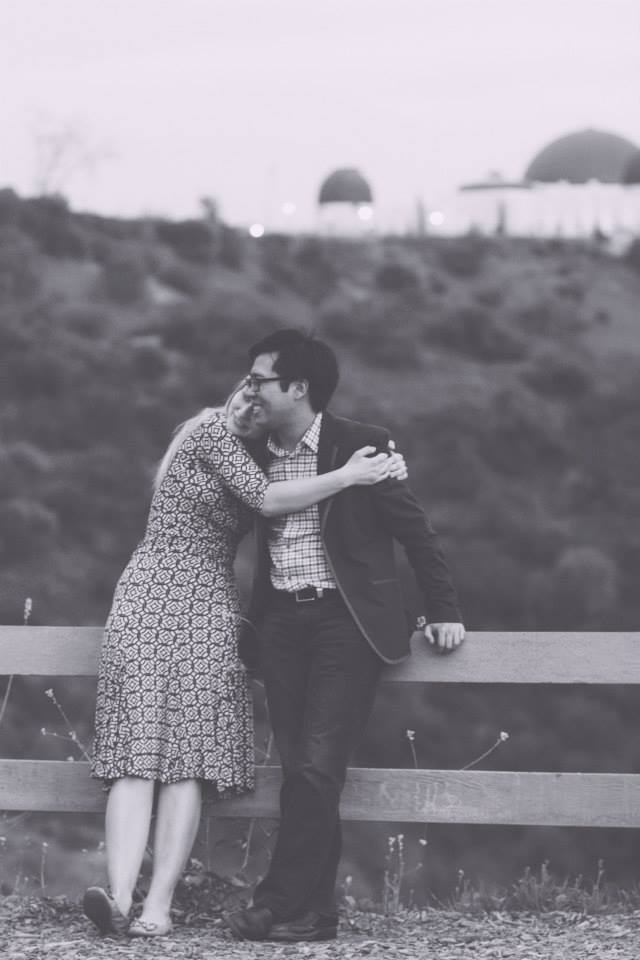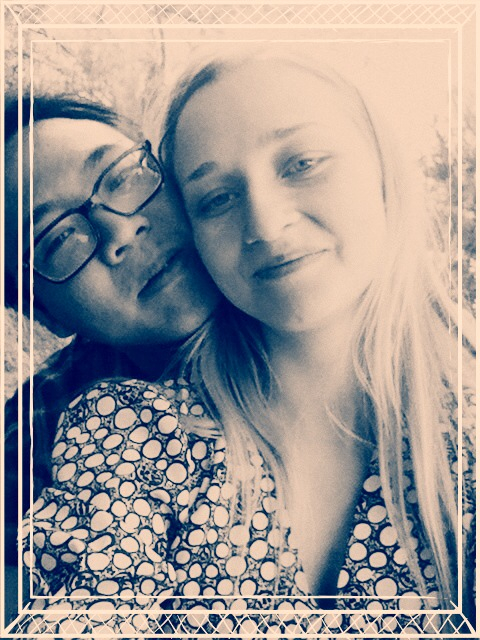 It was then that I really started to get a feel for Mandy's amazing and beautiful personality and light that she brings to each and every room that she walks into. We later had lunch at the Blue Bayou that day and I remember her sitting down at the end of the table with her pirate hat and ordering pirate punch! That was an incredible day and we started to hang out a lot as a group, having "reunions" as often as possible!
After college, I went to work at Amgen while she went back down to San Diego for a few years. But she would always send me the occasional text, and I always had a soft spot for her whenever her name came up in conversation.
During this time, our mutual good friend, Marisa Tate got married and I RSVP'd to attend! I knew Mandy might be there so I was super excited and a little bit nervous to see her. I remember sitting at the table and then getting up to get something, and then saw her standing at the doorway. She was absolutely gorgeous and beautiful and I remember being SO excited to see her again!!!

I showed her where I was sitting and then we both started standing in line for the buffet. I updated her on everything I was doing. (At the time, I had just gotten my internship at Imagineering and was telling her how awesome it was!) and I just remember this ONE moment, where I looked at her, and her face was so beautiful, her smile so heartwarming, and something about her eyes were sparkling and twinkling in the moonlight. And I wondered if we could ever be together…
…that was another forever moment in the history of our lives… that I will always cherish…
CUT TO: another ZShape reunion at the beginning of Spring, and I get word that Mandy is actually back in the Los Angeles area.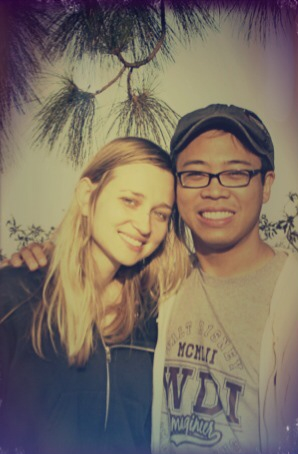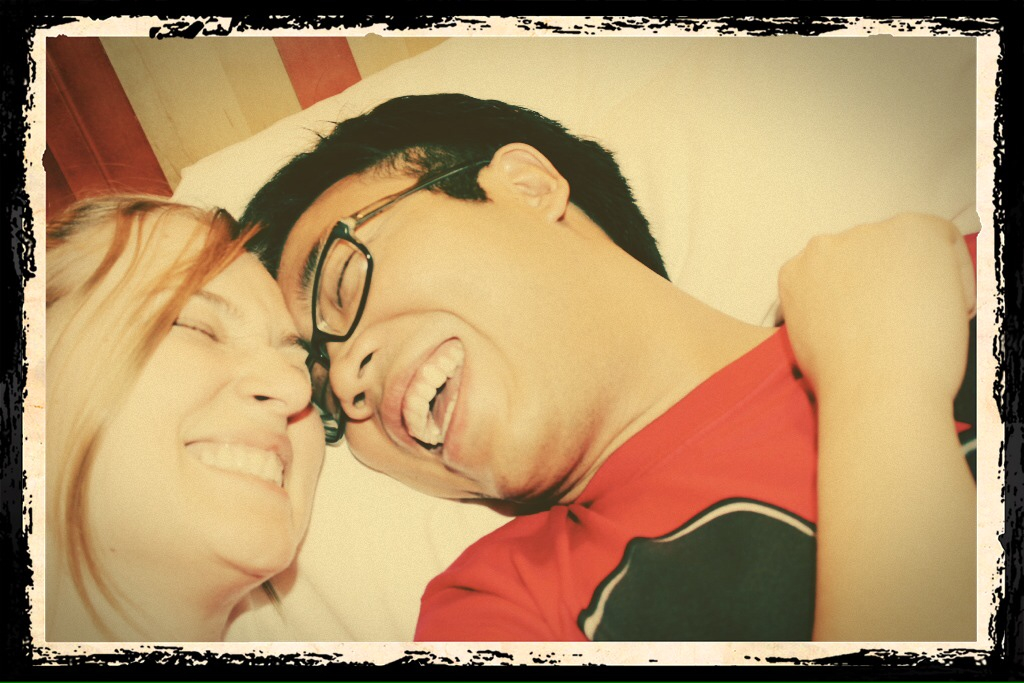 We were to have dinner at Pop Champagne that night. I was super excited!
I walked into that awesome classy bar, and there she was. I asked her, "Sooooo, did you move up here with… your boyfriend…???" and she said that relationship had ended, and that's where I was like, "Ohhh REALLY?!?!? Wellllll, that's sad… BUT… what have you been up to?!?????? annnnd, tell me more about your life :P" Yup, that's how it started.
And it was actually that very night that I was telling her how awesome the new Star Trek movie was and how she should go see it. She told me that she was an avid Star Trek fan, and I was like, "REALLY?!?!?!? THAT'S AWESOME!!!!"



and then she went on to say that she was really excited that Benedict Cumberbatch was in it as the villain, saying, "Because I really like him in Sherlock…" and was like, "I LOVE SHERLOCK. YOU'RE AWESOME!!!!" and then we found a bunch of other things we had in common. But somewhere in the conversation I mentioned that I'm also a huge fan of Time Travel, that's the moment she mentioned, "OH, well, if you like Star Trek, and Sherlock, and Time Travel… THEN you should watch this show called, "Dr. Who!!!"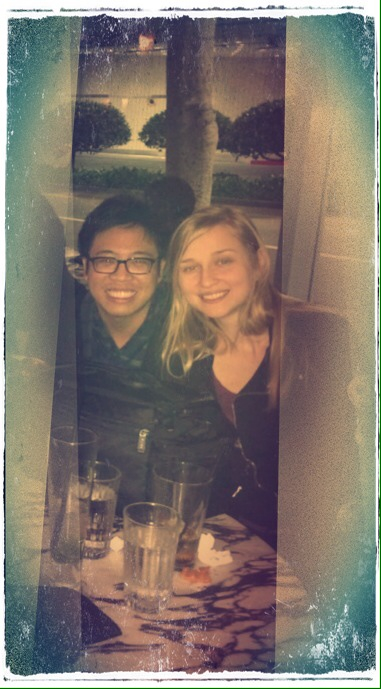 At first I thought, "Boy, I already am strapped for time as it is, but maybe…"
And that night, I ended up hacking into my mom's Netflix account, so that I could watch the first episode; watched it; and actually really enjoyed the first episode so much that I HAD to text Mandy. I was hoping she was still awake, and so I sent the text. Her text message back to me no more than 30 seconds later was, "When I heard my text message going off I was HOPING it was you saying this EXACT thing!!!"

And that, is where I started falling head over heels for her.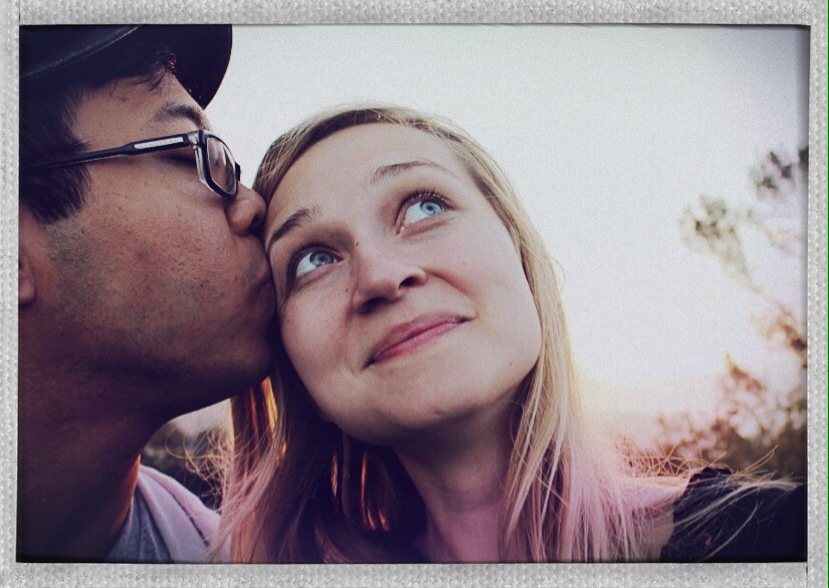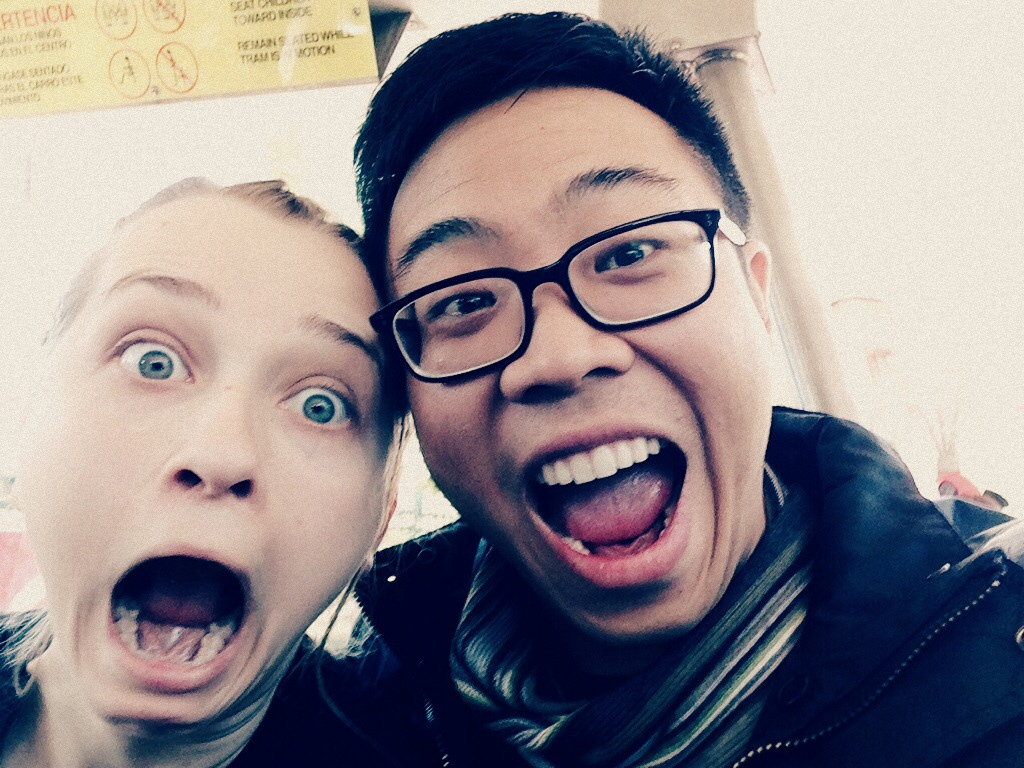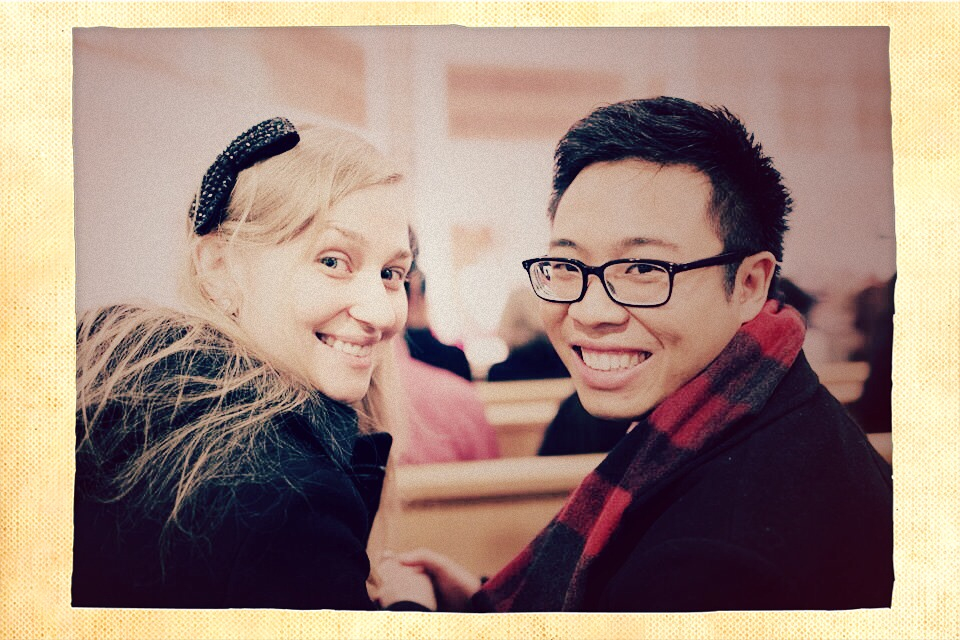 There she was, suddenly back in my life, and more brilliant and amazing as ever. From that moment on, I couldn't stop texting her. The next day, all I could think about was her. And we eventually hung out more and more, watching more Dr. Who, talking about life, our hopes and dreams. It was like finding my best friend that I never knew I had but had been there all along.
I ended up visiting her almost every single night at her apartment, and texting her every single morning. Our first "unofficial date" was when we both watched the new Star Trek together and stayed at Johnny Rockets on 3rd street in Santa Monica until closing time. It's like time had slipped away and we had entered a blackhole where time stands still in every moment when we were together. I had never felt that with anyone before and I knew I never would again.
One week, she said she was going back down to San Diego to take her niece to the zoo, and then I asked her, "When will you be back? Maybe we can meet halfway and go to Disneyland for the evening! I can let you in for free since you no longer have a pass!" and so we went. And that night was so very magical. I remember coming off of Buzz Lightyear's Astroblasters after learning the secrets of the universe from her on how to master the point system on that ride and the fireworks had just started. To make sure she didn't get lost in the crowd, I put out my hand so I didn't lose her… and to my surprise, she held my hand back and squeezed it!

which made me smile!
SO, when the park was about to close, we decided to ride Pirates of the Caribbean, as our final ride to end our amazing night with. We got to the boat, and the cast member said that we were the only two and we could have the entire boat to ourselves. It was at that moment that I said to myself, "Wow, if I don't ask her tonight and express my feelings, I'm going to hate myself for the rest of my life!" Soooo, we went down the first drop, and that's where she started leaning closer against my shoulder, and then I started leaning against her shoulder. Somehow our hands ended up in each other's, and somewhere in the middle, I mustered up the courage to ask, "Mandy, I have a personal question…" and asked her if should would do me the honor of letting me date her.
Our first official date was at the Magic Castle in Hollywood which was truly a magical night. Since then we've been on so many adventures together, it's been an amazing journey. I knew from the moment that we first started dating that there was something really special about this girl. I tell people, "If I had a checklist of perfect qualities I would want in a significant other, she checks all of them plus more!"

The way she takes my breath away every single day  and steals my heart every moment I'm with her, I knew she was the one that I had been looking for and waiting for all these years. She makes me the happiest man in the world. So, I set the plans in motion, decided to ask her to marry me.
So, here we are, together, and looking forward to the road ahead and amazing chapters of our lives we get to write together.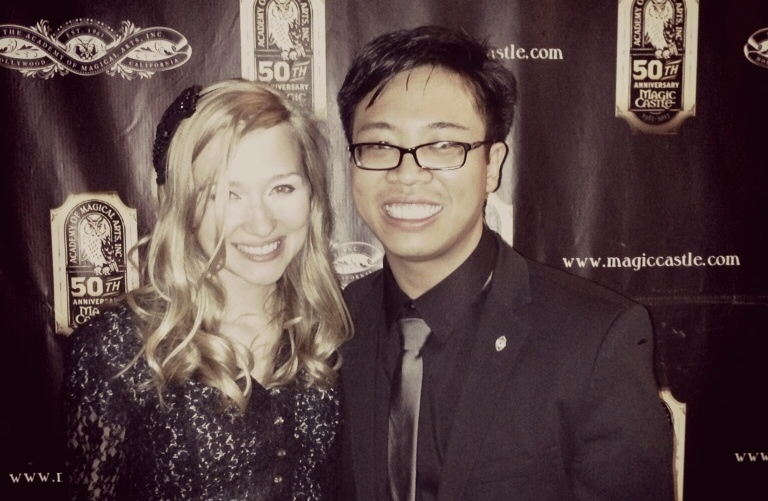 How did he propose?
Find out how Jonathan popped the question, to ask the girl of his dreams to marry him!

READ
What are we up to these days?
Jonathan and I tried a great little place near us for breakfast called Joe's Cafe We got a delicious stuffed French Toast and had a blast eating it together. I love places that give you free bread before a meal and I was not expecting a breakfast joint to do...